PrensS/Photos
"HU", Symphony Orchestra
Asier VALLEJO UGARTE
DEIA Newspaper 2/12/2014
"... The two concerts left to be performed by the Bilbao Symphony Orchestra include two very important incentives. The first one (On December 11th and 12th), conducted by Michal Nesterowicz, presents the world premiere of the work HU, by Maria Eugenia Luc, gifted composer with a powerful imagination and current Artistic Director of the Kuraia Ensemble ..."
---
"SHEN", Sextet
Juan Carlos JUSTINIANO LOPEZ
SINERIS- Musicology Journal- May/ June 2013
"..Nobody could miss a more mathematical and scientific proposal with Shen by Maria Eugenia Luc, erected on a Taoist background with fractal structures, in a pursuit of sonorities close to the specific music..."
---
"YUN", Saxophone Quartet
Mikel CHAMIZO
GARA Newspaper (26/8/13)
"...YUN, by Maria Eugenia Luc, is an extraordinary deployment of delicacy, where the sound seemed about to get broken in its own internal breathing. It is magical
---
"YUN", Saxophone Quartet
Teresa ALBERO
Diario VASCO Newspaper 26/08/2013
"... YUN, starting from the most ethereal and scattered point to get closer and closer, little by little, to the definition of sound and to create an interesting world of sound
---
"SILENCIO BLANCO", Symphony Orchestra
Mikel CHAMIZO
GARA Newspaper- 06/09/2012
" ..."Silencio Blanco" by Maria Eugenia Luc was totally different, a dramatic, passionate work, where we could appreciate the experience and professionalism of the Argentine musician using the orchestra, managing never-ending instrumental resources and colours, some of them really striking..."
---
"XI", Chamber Orchestra
José Luis TÉLLEZ
SCHERZO Journal- 21/11-2011
"..XI, by Maria Eugenia Luc, founder of the Ensemble and nowadays its artistic director is a work with Orientalist inspiration (the Chi Kung breathing) outside every exoticism: a refined game starting from a very simple material, from which an effortless and uniform development is extracted.
---
"APOCALIPSIS", Symphony Orchestra
Anton ZUBIKARAY
Deia Newspaper- 21711/2006
"....this work, about the Apocalypse by St. John, shows both a very interesting structure and intelligent and varied sound resources along its twelve- minute time. As the very Argentinian author, based in Bilbao, states "This music tries to be an evocation of the symbolic images, situations and events that are raised there (in the biblical text) as a prophecy". Therefore its writing, which achieves the best results by handling a broad instrumental group does not only aim at the echoes of destruction (as it is often the most usual approach in the artistic interpretations of the Apocalypse) but gets impregnated of a more conceptual symbolism, with an interior vision that overcomes the mere effects- which do not exclude one another either and are even made of colour and consistency-. The poetic density is above the mere description. An ample and solid chapter in a slow time is followed by a section with a more "violent" rhythm, with really pronounced accents, after which a space with a new slow, very expressive movement, closes the work. Perhaps what we have just described corresponds to the statements of the author, when she mentions "the time suspension after the sixth trumpet".
Great applauses were heard.."
---
"RED": Flute in G
Tan sólo una flauta
Mikel CHAMIZO
GARA Newspaper 17/8/2006
"..It is not easy at all to review a concert as the one we heard on Thursday, featuring an only musician, and moreover flautist...That is the reason why the one performed by Mario CAROLI was so exceptional, since the around fifty listeners gathered there were allowed to rediscover an instrument that has been largely defined by clichés.
....Works such as the ones by Kaiha Saariaho and Maria Eugenia Luc were magnificent examples of how speech can be related to flute, creating a curious hybrid between language and musical sounds (or noises)
---
"LAMIAK"-Saxophone, Txalaparta, Violin, Electroacoustic, Dance and Video
JON BAGÜES
EN TORNO A MUSIKASTE 2002
"..Out of the five works of the programme, the most outstanding one was perhaps the last work by Maria Eugenia Luc, who after having already used the txalaparta together with the txistu in her work "Enbat", symphonic movement for the txistu, txalaparta, marimba and electroacoustic sounds, offered us the opportunity to listen again to our traditional instrument embedded in academical instruments making up a game of sound , light and movement..."
---
"TAN FUGAZ", Saxophone, Accordion, Percussion and Electroacoustic
Oiasso Novis
Ismael GONZALEZ CABRAL
Diario VASCO Newspaper- 20/08/2001
"....We should underline in the work "TAN FUGAZ" by Maria Eugenia Luc (1958) the rich timbre of her ensemble, baritone/ alto saxophone, accordion, percussion and electroacoustic sounds and the enriching dialogue, somehow cold, stricken up by the instrumental soloists.
Photos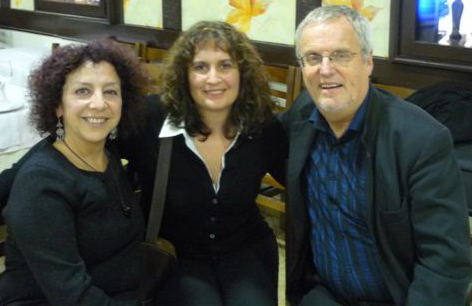 Silvia Castillo, Maria Eugenia Luc and Harry Sparnaay (Vitoria-Gasteiz 2009)
Maria Eugenia Luc ( Bilbao 2001)
Awards Ceremony of the International Contest Ciutat de Tarragona 2005 (Carlos Roque Alsina, Maria Eugenia Luc, Zulema de la Cruz, Antón García Abril, Joan Guinjoan, Jean Jacques Werner; Jorge de Persia)
Hervé N´Kauoa, Clément Fauconnet, Sylvain Millepied, Marie-Bernadette Charrier, Maria Eugenia Luc, Gabriel Erkoreka, Christophe Havel ( Leioa, 2005)
Contest Ciutata de Tarragona (2005)